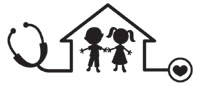 https://complexcareathomeforchildren.com
Enteral nutrition
What is it?
Good nutrition helps promote children's health and growth.
Food is normally introduced by the mouth, travels down the esophagus to the stomach and then passes through the small intestine (

or

small bowel) before continuing on to the large intestine (

or

colon).
The small intestine is composed of three sections: 1. the duodenum, 2. the jejunum and 3. the ileum. Most of the digestion and absorption of food takes place in the small intestine, especially in the duodenum and jejunum.
Certain problems or situations can prevent children from feeding themselves adequately:

difficulty sucking, chewing and swallowing (eg, surgery in the mouth),
need extra calories (eg, to treat wounds, heal burns, gain more weight),
poor absorption of food (eg, inflammatory bowel disease),
need to give the intestines a rest period (eg, after gastrointestinal surgery),
increased energy needs because of other medical conditions (eg, heart or lung conditions),
loss of appetite,
aspiration (accidental entry of food or reflux from the stomach into the lungs),
malfunctioning of the digestive system (eg, congenital malformations, genetic conditions),
etc.

Enteral nutrition (

or

enteral feeding

or

gavage) is used to feed children who cannot take any food or fluids by mouth or who need supplemental feeding to meet their nutritional and water needs to ensure their hydration and growth.
Enteral nutrition is a way to deliver different types of nutrition directly into the stomach or small intestine through a tube. The types of nutrition may include: water, breast milk, fortified breast milk, infant formula, nutritional formula (

or

enteral formula

or

feeding or gavage solution) or liquefied food.
When enteral nutrition is prescribed at home, it may be needed for several weeks, months or longer, depending on the child's condition. The duration of treatment is determined by the healthcare team.
Your healthcare team has determined that enteral nutrition is the most appropriate way to adequately feed and hydrate your child, given his or her condition. With proper monitoring and good daily care, enteral nutrition at home is effective and safe. It allows your child to continue to grow and develop well.
---
https://complexcareathomeforchildren.com/enteral-nutrition/
Disclaimer of Liability: By using this site, you acknowledge that you have read this disclaimer and agree to all of its terms. Before making any decisions regarding your health or if you have any medical questions, you should first consult a physician or qualified health care professional who can provide recommendations tailored to your specific needs. The information published on this site does not constitute a recommendation for treatment (preventive or curative), a prescription or a diagnosis and is not a substitute for the advice of a physician or qualified health professional.
As medical and technical knowledge is constantly evolving, the content of this site is made available for information purposes only. The contributors to this site, including clinical experts in pediatrics from across Quebec, make every effort to ensure that the information made available on this site is as accurate and reliable as possible, without guaranteeing the completeness or total absence of error of its content. The opinions contained in this site are the sole responsibility of the author(s) and are not binding on the contributors to this site. These opinions do not necessarily reflect the official viewpoint of the organizations mentioned, nor that of their directors or representatives. The contributors to this site cannot and will not assume any responsibility for the use of the published content or for the information otherwise accessible through any link or reference source. Any quotation or reference to a source external to this site is for informational purposes only and does not constitute an endorsement or claim, express or implied, regarding the content or validity of the information obtained from that external source.
All rights reserved: The contents of this site may not be reproduced or disseminated, in whole or in part, in any manner or by any means, electronic, mechanical, including photocopying, recording, or otherwise, or stored in a retrieval system of any kind that is not limited to private use, without the prior written permission of the copyright holder.
Copyright © 2023 Soins Complexes. Tous droits réservés/All rights reserved.