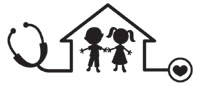 https://complexcareathomeforchildren.com
Enterostomy care
How does it work?
An enterostomy allows gas and stool (poop) to pass directly from the intestine into a collection device (called an ostomy appliance or ostomy pouching system) that your child wears on the abdomen.
The ostomy appliance has two specific roles:

it collects the stool,
it protects the stoma and the skin around the stoma.

The ostomy appliance has two parts:

a collection bag/pouch to hold the stool and gas,
a skin barrier (also called a wafer or skin protector) that sticks to the skin and around the stoma to protect this fragile skin.

These two parts of the ostomy equipment may be joined together (one piece) or separated (two pieces) depending upon the model recommended by your child's healthcare team.
If they are separate pieces, then the skin protector part has a raised portion (called a flange). The flange is used to secure the collection bag to the skin protector without putting pressure on the actual stoma. The collection bag clips onto the flange like a lid on a plastic container.
There are many different models and sizes of ostomy appliances. Your child's healthcare team will help select the type that will suit your child best. You may need to try a few different models out to find the one that works best for your child.
The collection bag may be either closed or drainable.

The closed bags do not have an opening. They should be discarded when they are approximately one third filled; this type of bag is rarely used in children.
The drainable bags allow for the contents to be removed from an opening in the bottom and then to be resealed shut to use again. The bag should be emptied when it is one third full. The bag stays attached to the flange and the skin protector; it does not need to be removed to empty the bag. The drainable bags close at the bottom using a clasp which can be either part of the bag or a separate piece.
Either type of collection bag (closed or drainable) can be used with a internal disposable bag (called a pouch liner), which is often appealing to teenagers who have enterostomies because it is easy to empty and easily replaced with a new one. The pouch liner is removed when it is one third full and the contents can be flushed down a toilet.
The collection bags can be either transparent (clear) or opaque (can't see through them). Some models have a filter that removes air without releasing odours.
The ostomy appliance is changed every 3 to 7 days but the frequency will vary according to the specific needs of your child. Speak with your enterostomal therapy nurse or child's healthcare team to know how often your child's appliance should be changed.
---
https://complexcareathomeforchildren.com/enterostomy-care/
Disclaimer: As medical and technical knowledge is constantly changing, this information is provided to you for educational purposes only. The information provided on this website is strictly provided on an "as is" basis without warranty of any kind, whether express or implied and should not at any time be considered as a substitute for professional advice from your physician or other qualified healthcare professional.
A collaboration of clinical experts across Quebec has taken every care to ensure that the information contained in this document is accurate, complete, and reflective of evidence-based practices. However, "Complex care at home for children" collaboration cannot and does not assume any responsibility for application of the content of this document or for any information that may be present in the websites cited as a reference. These web sites are provided for informational purposes only and do not represent the collaboration endorsement of any companies or products. Always consult your child's physician and/or a qualified healthcare professional to learn more about recommendations specific to your child's health needs.
All rights reserved: No parts of this document can be reproduced or transmitted in either electronic or mechanical form, including photocopies, or informational stocking or recuperation systems, without the written permission, signed by the author (with the exception of brief citations used in literatures or discussion forums, and citing the authors and the sources).
Copyright © 2022 Soins Complexes. Tous droits réservés/All rights reserved.