Indications:
The steps in the method below may serve as a guide; speak to your healthcare team about the specific equipment that your child uses.
Considerations:
Each time the bag is emptied, it is very important to close it securely in order to prevent leakage and odor.
Optimize your child's comfort during care with appropriate positioning and the use of distraction.
Frequency:
Empty the bag when you find that it is 1/3 full of air/stool by gently feeling to see the amount it contains.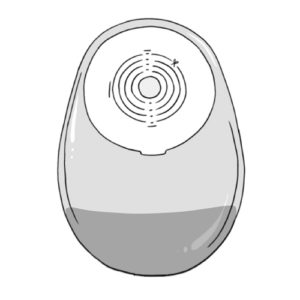 Depending on the age of your child, and the type of stoma, the bag should be emptied between 1-6 times per day. A bag that is overfilled can detach from the skin and cause leaks.
If the bag is filled with air, let the air out through the opening of the bag. If your child has a two piece device and there is very little stool in the bag let the air out by partially detaching the bag from the flange.
Refer to your child's healthcare team if the material or the sequence of steps you have been taught is different than those described.